Rules of Men's Business-Casual
If you're a man and you worked in an office, you wore a suit and tie; simple, but then casual Friday came along. Now, even banks have relaxed their dress codes to allow for business casual, which is great news.
Ditch the Tie. Although they've always gone together, sometimes they just have to go separate ways. Ties aren't obsolete, they're still a very crucial piece of formal wear but if your neck is ready to be free, tieless is the way to go.
So without a tie, what then do you do with your shirt? Roll up your sleeves? Sporting a button up without a tie below your blazer looks incredibly sleek. Button it all the way or leave one or two undone at the top for a masculine chest appearance. It's usually best to stick to a solid color tee, underyour blazer, because designs can make them look too informal.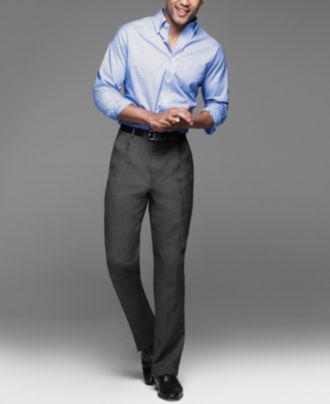 Your choice of shoes are crucial. Your collection needs more than just a basic black dress shoe, make them stand out with a unique shade (either brown or navy) or stick to loafers, sneakers or a dress boot.
Alternative outerwear is a key piece for business casual ensemble. It isn't usually all about the blazer. Sport your button-up shirt and tie with a cardigan. If you feel better buttoned up, try a thin cardigan with low-placed buttons to showcase your tie.
Not enough can be said about the importance of having clothing fit properly. A well-tailored suit adds power and sophistication to your outfit. Personal style should never be underestimated, and our business-casual workwear is certainly no exception.