7 pieces to a perfect business-casual wardrobe.
7 pieces to a perfect business-casual wardrobe.
Working in an office with a business-casual dress code has its pros and cons. On the plus side, it takes a lot of the guesswork out when you're only able to wear certain things. But on the negative side, it doesn't allow for a ton of creativity. That is, unless you stack your wardrobe with timeless essentials that are easy to mix and match—and always look chic.
SLIM-CUT TROUSERS THAT MAKE YOU FEEL LIKE A BOSS
Your favorite skinnies these are not. Though they're slim-cut, this style reads much more "power presentation" than "weekend trip to the farmers' market." They should fit snugly around the hips and butt and a bit looser down the leg (for all-day comfort), and the hem should be cropped just above your ankle (for the most flattering look). This is one of the best work-casual fits.
A PENCIL SKIRT YOU CAN ACTUALLY BREATHE IN
The pencil skirt is a total workplace classic in pulling the business-casual look, but it's surprisingly hard to find the perfect one. That's why it's beneficial to take this baby to the tailor before wearing it to work. For a little extra money, your skirt will become way more wearable thanks to a little professional TLC. Ask your tailor to fit it snugly around your midsection and a touch looser around your butt and thighs (like the trousers above).
A SHARP BLAZER THAT IMPROVES YOUR POSTURE
A blazer is one of those pieces that make you stand a little taller and feel a little more confident. It's professional without being stuffy, and it looks great with pretty much everything in your closet.
HIGH-WAIST TROUSERS THAT MAKE YOUR LEGS LOOK MILES LONG
Yes, you have room in your wardrobe for both slim-cut and wide-leg pants. (Variety is the spice of life.) Keep a pair of high-waist wide-leg trousers on hand in a sturdy material like wool to elevate your everyday look. Bonus: These pants, when paired with heels, make your legs look super long.
BLACK PUMPS THAT DON'T KILL YOUR FEET
If you have to wear heels to work every day, they'd better be as walkable as possible. That might mean trying on a bunch of pairs before settling on the perfect ones, but in the long run it's totally worth it. Look for styles with a mid-height heel and a toe that is pointed (to make your legs look longer) but not too pointy (so you won't be hobbling home in the evening).
A PAIR OF FLATS YOU CAN SECRETLY SLIP INTO
No matter how comfortable your work pumps are, chances are you're not going to want to wear them every moment of the day (if you can avoid it). Keep a pair of comfier flats under your desk to wear when your legs and feet aren't in plain sight. When you have to leave your desk, switch back into your pumps and your coworkers will be non the wiser.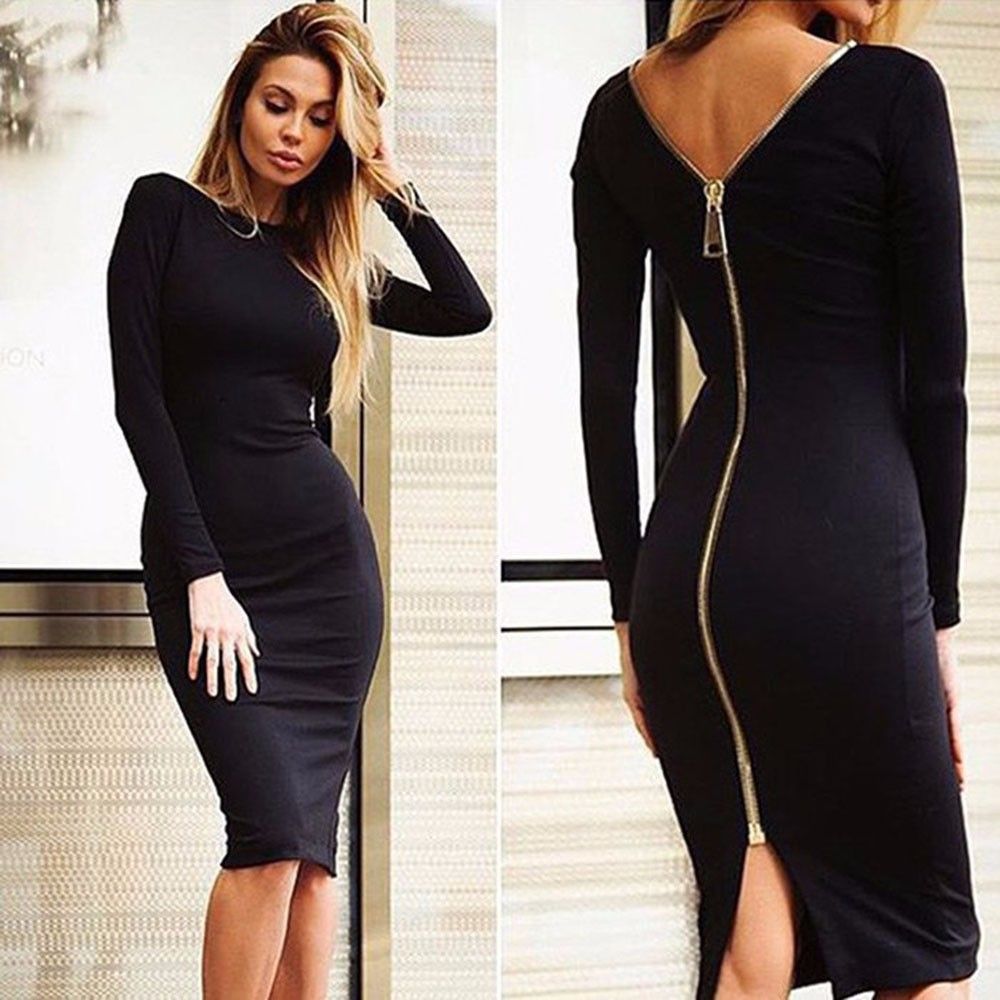 A SHEATH DRESS YOU CAN TAKE TO POST-WORK COCKTAILS
An easy throw-on-and-go sheath requires very little thought but still looks put together. Stick to neutral colors like black, navy and gray, which can give off totally different vibes depending on how you accessorize.